Garage Flooring Color Styles
Garage Floor Colors and styles are changing all the time. Our colors and styles will go with any design you have in mind. We provide a solid base coat as the under coat of a full broadcast of colored flakes in sizes of 1/4", 1/8″, and micro. These are the most common in the garage flooring industry, custom colors and sizes are available, but will cost a little more. Some things to consider when choosing your color or style: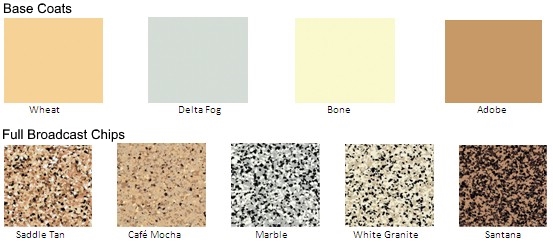 New standard design collections have been added and will be shown onsite or in our showroom.
Questions to ask when considering a Flooring System:
Will the color hide dirt well?
How is the current lighting?
Do you want the floor to reflect your nice sports or exotic cars?
Do you live in an area with snow or ice?
What do you use your garage, shop, and building for?
Do you weld in your garage, shop or building?
Smaller chip flakes hide dirt and debris better
Darker color chip flakes can show dusty foot prints across the floor
Darker colors show water on the floor better, lighter floors are harder to see wet spots
Non-slip additive can be applied to make it slip resistant
Vertical and stem walls can be coated
Steps look really cool coated
Metal drains can be coated
North Carolina
828-202-5287
South Carolina
864-332-4521