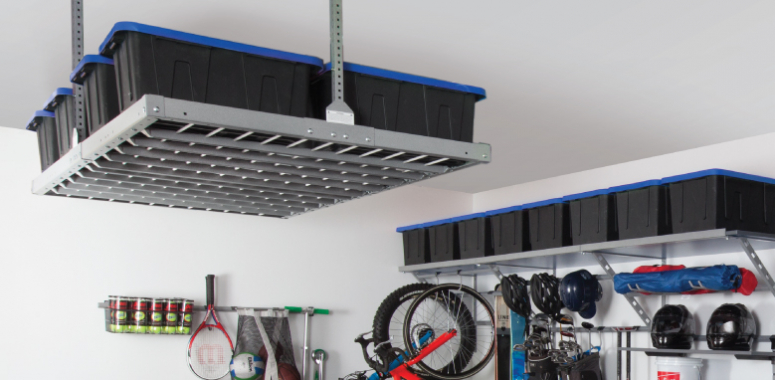 The Garage Authority offers two different Garage Overhead Storage Systems to use in your garage depending on which one is best for your application.
The Standard Overhead Storage System ranges from a small 4'x4′ system to a very large 4'x8′ system. Our ceiling mounted garage storage is the strongest on the market with the T-brace design.
The Motorized Overhead Storage System add safety and convenience and can be operated from your smarthphone. Check out the overhead storage photo gallery.
Standard Overhead Storage
Our 4'x8′ ceiling units, which can hold up to 750 pounds per unit and have the adjust-ability from 18 to 44 inches down from the ceiling. There is also an added benefit where we can actually hook them together in series or in a row which creates the overhead storage space most client need.
Our most common installation is 2 (4'x8′) ceiling mounted units in a row, which creates an overhead storage system 16 feet long, four foot wide and can hold up to 1400 pounds. This installations is typically the best configuration in a two car garage because they fit perfectly within the width of the garage. A three car garage typically will accommodate 3 (4'x8′) units.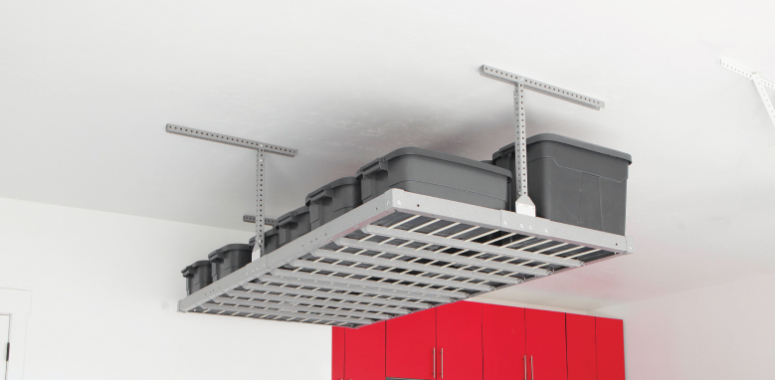 Motorized Overhead Storage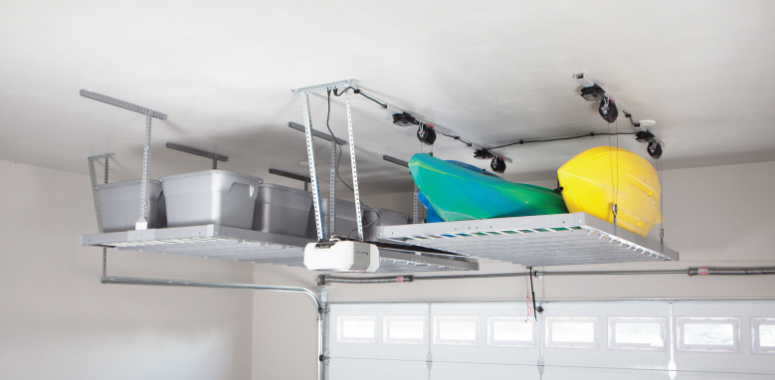 Our Motorized Overhead Storage System can hold up to 350 pounds and conveniently gets all of your storage off the ground without the need for a ladder.
The motorized overhead storage system uses Bluetooth Technology so it can easily be raised and lowered using your smartphone.
Items stored long term can easily be lifted out of sight and items used more frequently can be accessed quickly at the push of a button.
Monkey Bars Overhead Storage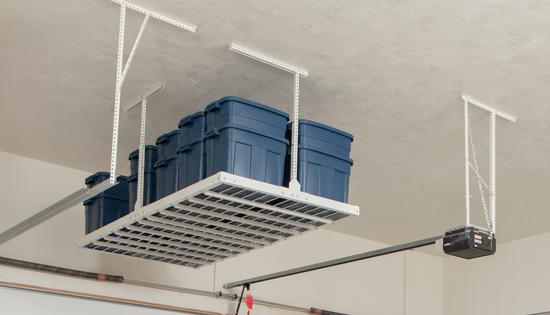 Can hold up to 750 pounds of storage with adjustable height.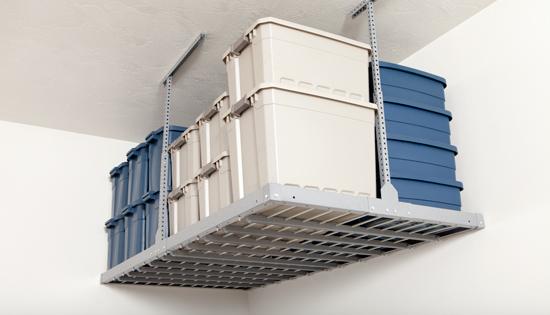 Can hold up to 1000 pounds of storage with adjustable height.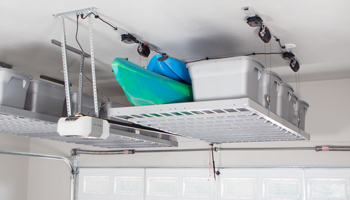 The perfect solution for small garages with low ceilings.

Monkey Bars Racks Backed by Lifetime Warranty

Pick Your Color: Granite Grey, Desert Stone, and White

The best garage storage system professionally installed

Combine multiple racks for even greater storage capacity
If you are looking for Professional Garage Overhead Solutions then look no further than The Garage Authority.  We are your source for garage ceiling storage.
Complete our Contact Us  form or call us today in North Carolina at (828) 202-5287 or in South Carolina at (864) 332-4521 or for a free Garage Overhead Storage solution consultation, design and estimate.
Monkey Bars offers wonderful solutions for Garage Organization – friendly prices too. Really helps you keep organized. Thanks so much for helping our garage function so wonderful.
Rita
Unmatched Lifetime Warranty on Shelving Systems!